Agape Wellbeing are committed to helping you with the cost of raising a family.
For families with a child or children aged from Birth to 8 years of age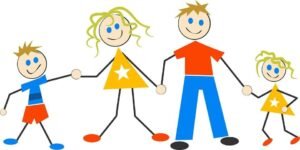 Do you have child(ren) between birth and 8 yrs of age?
Are you the main carer for your children?
Do you and your child(ren) live in East Kilbride?
Do you consider yourself to be on a low income?
If you can answer Yes to all of the above, then you may be eligible to join our clothing voucher scheme depending on your household income. This will entitle you to receive a bi-annual clothing voucher, up to a maximum of 2, plus a baby massage voucher for babies under 6 months, for each child that resides with you up to and including 8 years of age.
Please click on the Check Eligibility tool below to see if you are eligible. All families whose household income is below 10% are eligible to be part of the scheme. Proof of income and outgoings is required. Please pop into Agape Kidz to apply to join(Please note: Children's voucher scheme awards are subject to availability. Only one parent/ carer may apply for each family member. Minimum 6 months between each award per child. Agape Wellbeing reserve the right to refuse any award or and remove these at any time. All subsequent rewards will be reviewed annually).